Creative Water Garden Designs in Atlanta GA by Urban Water Gardens
We at Urban Water Gardens specialize in creating and maintaining your outdoor space to make it beautiful and functional. Our professional team of landscape artists has the passion and enthusiasm towards their work which brings more life and color to your water garden.
Urban Water Gardens can help you design and create your garden, making it as simple or elaborate as you like. Our years of experience in the field gives us the expertise to use rocks, sand, ornaments and manufactured waterfalls to create an idyllic setting for you to enjoy.
We can help with pond maintenance issues, keeping your water clean of algae. We are also a pond fish supplier and can supply healthy, attractive koi and other fish for your pond.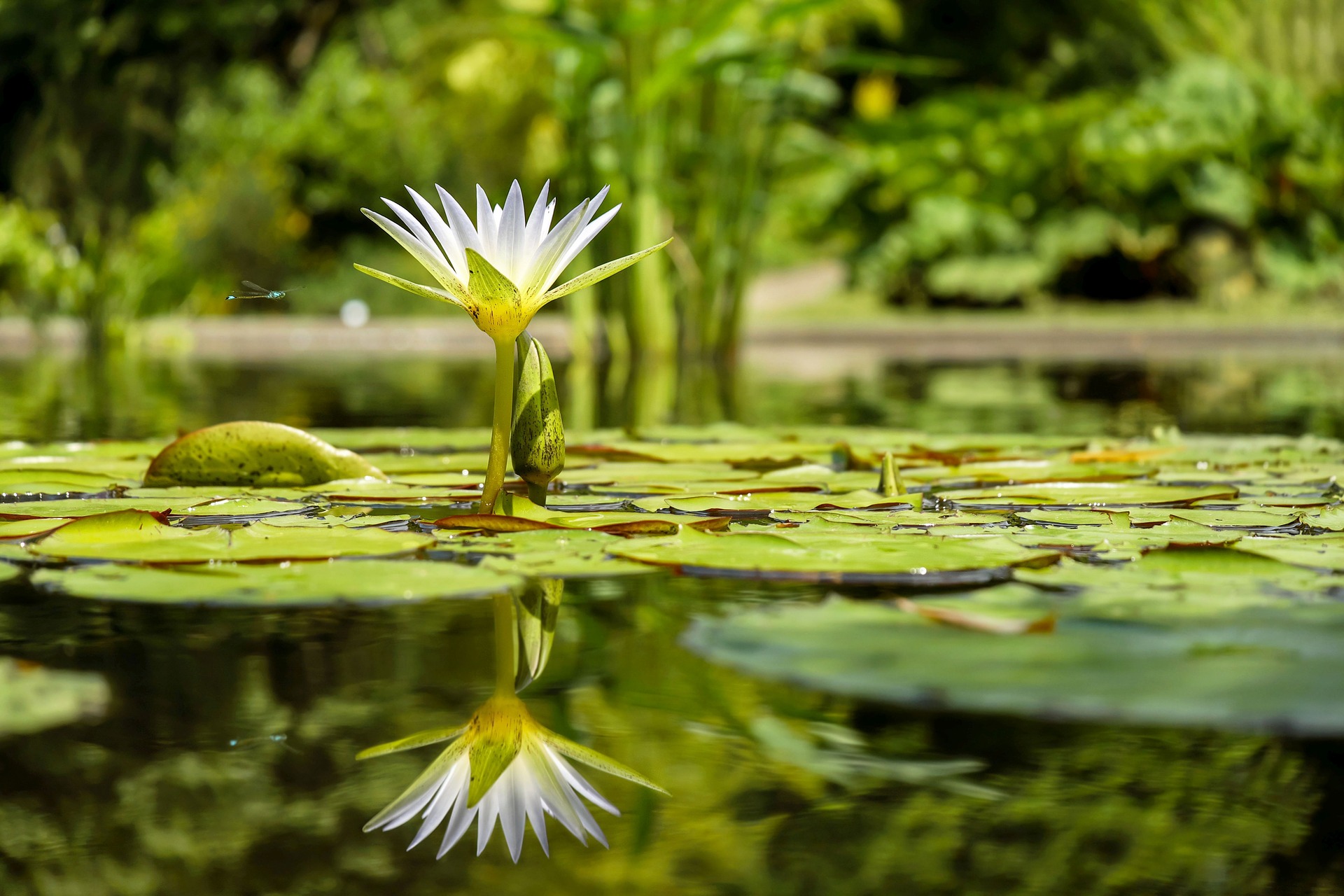 Full Range of Urban Water Gardens Services
Aquatic Weed Control
Control Weeds with our annual water management program we provide an effective cure for weed control without affecting fish, and wildlife. Keeping your waterway beautiful. We can improve your lake or pond dramatically.
Lake Mapping & Depth Analysis
Knowing the facts about your lake or pond is essential for proper management. Exact acreage, depths, and chemistry of your lake are critical factors for making the best decisions.
Aquascaping
Aquascaping not only improves the appearance of your lake or pond, governmental agencies frequently require the use of aquatic plants for environmental reasons.
Fountains & Aeration Systems
Fountains and Aeration systems dress up your waterway. Custom designed fountain to fit your needs. Fountains are not only attractive but biologically beneficial adding needed oxygen to the water.
Terrestrial & Ditch Bank Weeds
Whatever your weed control needs, our highly qualified biologists will design and implement an effective weed control program. We guarantee overall improvement!
Water Clarification
Urban Water Gardens specialize in water clarification. Clearing murky, muddy water conditions, often within 24 hours. Water clarification confirmed and a written report is supplied to the customer.
Fish Stocking
The fish population is an important part of creating an environmentally balanced lake. Urban water Gardens can analyze your needs and provide a program tailored to your needs and budget.
Plant Identification
Identify the type of aquatic plants growing in your lake or pond. There are four general categories; Submersed, floating, emergent, & algae.
Go Green
Offering environmentally-friendly methods and materials that use less harsh chemicals in your lake or pond.
Looking for Professional Pond and Water Garden installer in Woodstock GA?
Look no further! Urban Water Gardens is just one call away and we'll be glad to provide you with our professional pond and water garden expert services whenever and wherever you are in Metro Woodstock.
<script type="application/ld+json"><!-- [et_pb_line_break_holder] -->{<!-- [et_pb_line_break_holder] --> "@context": "http://schema.org",<!-- [et_pb_line_break_holder] --> "@type": "Corporation",<!-- [et_pb_line_break_holder] --> "name": "Urban Water Gardens",<!-- [et_pb_line_break_holder] --> "alternateName": "Atlanta Landscape Architect",<!-- [et_pb_line_break_holder] --> "url": "https://urbanwatergarden.com/",<!-- [et_pb_line_break_holder] --> "logo": "https://urbanwatergarden.com/wp-content/uploads/2017/07/UWG-logo.png",<!-- [et_pb_line_break_holder] --> "contactPoint": {<!-- [et_pb_line_break_holder] --> "@type": "ContactPoint",<!-- [et_pb_line_break_holder] --> "telephone": "+1 (404) 800-9709",<!-- [et_pb_line_break_holder] --> "contactType": "customer service",<!-- [et_pb_line_break_holder] --> "areaServed": "US",<!-- [et_pb_line_break_holder] --> "availableLanguage": "English"<!-- [et_pb_line_break_holder] --> },<!-- [et_pb_line_break_holder] --> "sameAs": [<!-- [et_pb_line_break_holder] --> "https://www.facebook.com/Urban-Water-Gardens-1758564637505887/",<!-- [et_pb_line_break_holder] --> "https://plus.google.com/u/0/112331106978189275712"<!-- [et_pb_line_break_holder] --> ]<!-- [et_pb_line_break_holder] -->}<!-- [et_pb_line_break_holder] --></script>